Back to All News
Wedding Rentals For Backyard Ceremonies, Receptions
Posted On
February 13, 2022
Non-traditional weddings have taken root the last several years for a variety of reasons and many include DIY wedding rentals.
Whether couples plan small ceremonies and receptions at the same location or use a private residence for the ceremony or reception, party rentals for a wedding is an affordable solution made easier with a team.
Backyard Tents Of All Types, Sizes Available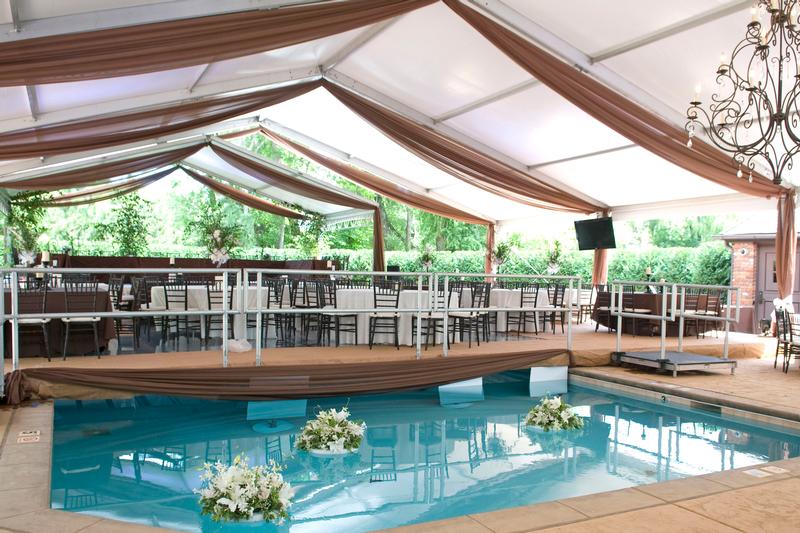 If you are considering using a backyard tent for part or all of the wedding, smaller rope-and-pole tents can be set up with little experience.
But larger tent rentals of various types and styles to provide shade or shelter from the elements may need professional help to set up, which Ultimate Events happily provides.
Will Call Pickup For Rental Tables, Chairs, Place Settings
While tents may require experience to set up, rental tables, chairs, place settings, decor, bars, dance floors and a variety of other party rentals can readily be picked up and dropped off via will call.
This allows couples to identify desired rental items online, submit their list and finalize their plan with an Ultimate Events wedding planning professional to ensure the big day has all it needs.
Rental Catering Equipment Allows On Site Food Prep
Backyard receptions handled by family, friends or professional caterers can use will call to rent a variety of commercial grade equipment such as a rental propane convection oven, electric hot box or a rental refrigerator or freezer.
Rental charcoal or propane pig roasters or grills can bring a desirable element to an outdoor reception.
Rental Dance Floor, Sound, Lighting Available For Pickup
After dinner wedding rentals can include a rental dance floor or a variety of sound equipment for dancing.
For non-dancers, there is a variety of rental bars and bar equipment as well as lounge and cocktail furniture.
For details, view the available rental inventory from Ultimate Events, a leading Twin Cities wedding rental and planning business.
Or, call 763-559-8368.
---
Visit Our Showroom
Come see everything we have to offer! Visit us at our showroom.

13405 15th Avenue North
Plymouth, MN 55441
Help Me Plan
Plan your event using our online wizard!
Click Here
Speak with an event specialist
Have specific questions about your event? Our trained staff would be happy to help. Fill out our contact form or call us now!
763-559-8368